Our company with headquarters in Germany and Poland exists since 1989 and although her activity area was extended several times in the meantime, she always simply continued a realisation of our ideas.
The company has a family character and in view of the fact that we are bikers, we fixate the most attention on of the motorcycle branch while we connect our work with passion. All the efforts and engagement of our family doesn`t concentrate in the first place on business matters but on a creative work and realisation of our ideas and projects also taking account of course of wishes, remarks and tips of our customers, as they are the most important for us.
We are manufacturer of motorcycle bags with universal mounting system. The bags are being tested regularly on all continents and in different climate conditions. They covered thousands of kilometres, so that you can travel safe and comfortably worldwide. The ideas which accompanied us in the creative process were as follows:
our bags should be practical
they mustn`t be just a luggage - they should be a travel partner
you should be safe
your gear cannot become wet
you should have always free hands – and we have achieved these aims !
We produce also locks in the shape of a hand grenade for motorcycle brake discs and we are importer and distributor of many motorcycle accessories, that we import mainly from the USA, Canada and Great Britain.
The products made by us are provided with AGM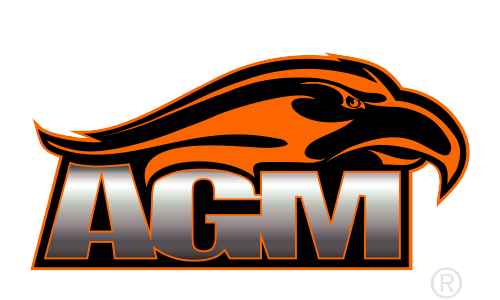 hese logos only confirm the genuineness of our products.
Attention: Unfortunately good products become objekts of desire sooner or later by others. The same happened also with our bags. On the one hand this is a reason for pride and, on the other hand, for irritation. We have created solutions, that are being copied (exactly imitated) by other manufacturers, even by well known Companies, that sold their bags on the market long before we ever started to produce our own bags. There are also such people, who don`t have any own CONCEPT and search it at us and just copy the ready products – they take over 100% of our ideas, headwords, names. They impersonate us, follow our tracks to the dealers, motorcycle events and fairs. By both groups our ideas and improvements are being intercepted – short time after our presentation they appear at the competition and cheap copiers.
Thus we say to all copiers assertively NO !!!
We encourage you to buy only original AGM products !
When you are not sure, if you purchase an original products, please write or call us and we`ll give you the information.
AGM Team for copies control
THE BAGS WERE DESIGNED by BIKERS for BIKERS !